---
Additional information
Updating date:
18.02.2019
---
---
Description
This extension allows you to create free attributes of type text, date, file, checkbox, multi-line description .
Can be used if you need to set additional parameters for order product.
Text - Allows users to enter specific text.
Data - Shows the date selection .
File - The files are downloaded when you add to cart . In the basket and in the order displayed on the download link to the uploaded file . Formats available for download are listed in the settings addon "Addon Free Attribute Type"
Files are written in components / com_jshopping / files / img_free_attr
Checkbox - Allows the user to select vlyucheniya need this attribute in order. For example: Additional settings . When you add items to the cart with the selected type attribute checkbox in the shopping cart displays the name of the attribute with a value of "Yes" ( the language set for the front by default. Uses language variable JYES). If you add items to the cart with no type attribute checkbox selected in the cart attribute is not displayed ( even if it is set as required) .
TextArea - Allows users to enter some text with line breaks .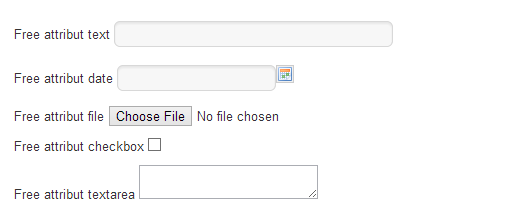 Installation.
installation through the control panel "Installing and Upgrading" JoomShopping, as usual addon.
(/ administrator / index.php? option = com_jshopping & controller = update)
Uninstall
Uninstall in the list of add-ons JoomShopping.
Don't forget to rate purchase extended and get
+50
Нареканий нет, работает как надо.
Катерина Бугаева
29.12.2015
Хорошее расширение, работает без проблем
Отличный плагин! Установил за 5 сек. Работает без ошибок
Очень удобный плагин, без проблем был установлен и работает. Спасибо.
jakob 3lines3lives
27.08.2014
ITS A GOOD EXTENSION !!! WORK FINE , VERY FINE AND THE SUPPORT IS VERY GOOD THANKS TO ALL !!!!1
jakob 3lines3lives
27.08.2014
I just bought does not work, does not leave the option to text can someone help I have pictures , but i can not put here !!! I need the plugin to work, does not work with Joomla 2.5 or Version 3.4.2 JoomShopping Does not work with Joomla 3.3 Version 4.6.1 with JoomShopping
Огромное спасибо, что откликнулись на просьбу и доработали аддон! Теперь это именно то, что мне нужно! Ставлю твердую 5
Очень не хватает этому расширению опции "максимальное количество вводимых символов". У оф.разработчика в расширении Free attribute validation есть такая опция, но там опять нет textarea. Как решить проблему чтобы в textarea было ограничение количества вводимых символов. А в идеале, хорошо бы со счетчиком, чтобы пользователь видел, сколько осталось ввести символов. Можете ли вы доработать это расширение? Или мне не стоит надеяться и сразу искать программиста.
Really nice Addon with very nice price. Works as promised. Also the Support was fast. Thank you Navigen
Is an excelent extension. I have just buy it and is great! Thank you for your quick help! Great team and great job!
---
---
Related products